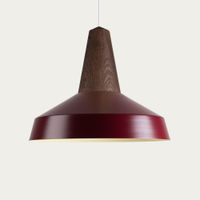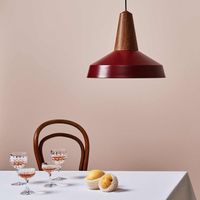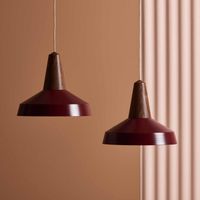 Burgundy Eikon Circus Black Oak Lamp
Sizing
• Dimensions: 40 cm x 34 cm
Shipping & returns 
Description
With a minimalist sense of design and a vivid use of color, Schneid's Eikon lighting merges timelessness and a contemporary aesthetic. The modular series offers a myriad of shapes, color combinations and natural materials - allowing you to combine your prefered wooden base and ideal lampshade. A refined, versatile addition to any home. Eikon Circus is the latest addition to the Eikon family and of all versions it has the strongest association to the classic industrial light. Its shape of the shade evokes nostlagic memories of a traditional circus tent.
Story
Named after the German wording for "being bold," Lübeck-based creative powerhouse Schneid is exactly that - bold, brilliant and refreshingly sophisticated. Born from the combined passion of two creatives, Niklas Jensen and Julia Jessen, the company celebrates traditional craftsmanship and innovative, colourful design in a collection of vibrant accessories for the modern home.
Features
• Design Year: 2016 • Designer: Julia Jessen & Niklas Jessen • Materials: Ash, Oak, Bamboo, Walnut or Black Oak | Steel • Socket Type: E27 • Suggested Light Bulb: LED max. 10 W, Halogen max. 60 • Handmade in Germany
Special Care
When dirty or dusty, please clean your lamp using a clean, damp cloth before leaving it to dry. If any substantial moisture remains after cleaning it, pease wipe the surface dry to avoid any staining.