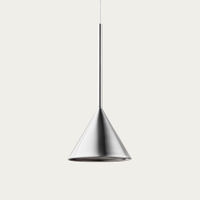 Chrome Figura Arc Lamp
Sizing
• Dimensions: 10 cm x 45 cm
Shipping & returns 
Description
The Figura collection conveys a sense of harmony and simple, timeless elegance. Composed of three different forms and inspired by the rustic aesthetic of classic industrial lights, this collection offers a minimal, graphic look and infuses classic shapes with a new modernity.
Story
Named after the German wording for "being bold," Lübeck-based creative powerhouse Schneid is exactly that - bold, brilliant and refreshingly sophisticated. Born from the combined passion of two creatives, Niklas Jensen and Julia Jessen, the company celebrates traditional craftsmanship and innovative, colourful design in a collection of vibrant accessories for the modern home.
Features
• Design Year: 2018 • Designer: Julia Jessen & Niklas Jessen • Material: Aluminium • Socket Type GU10 • Suggested Light Bulb: LED Max. 10 W, Halogen Max. 60 • Handmade in Germany
Special Care
When dirty or dusty, please clean your lamp using a clean, damp cloth before leaving it to dry. If any substantial moisture remains after cleaning it, pease wipe the surface dry to avoid any staining.