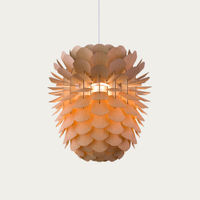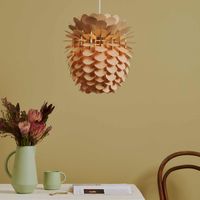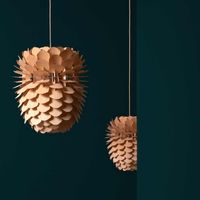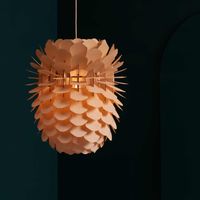 Oak Zappy Small Lamp
Sizing
• Dimensions 55 cm x 65 cm
Shipping & returns 
Description
Schneid's Zappy stands out with its unique shape and soft, inviting glow. The carefully handmade lamp of ash or oak veneer illuminates any indoor space with sublime light quality. With its delicate wooden panels and detailed natural design, it steals the attention as a beautiful lighting object and is bound to be a focal point in any room.
Story
Named after the German wording for "being bold," Lübeck-based creative powerhouse Schneid is exactly that - bold, brilliant and refreshingly sophisticated. Born from the combined passion of two creatives, Niklas Jensen and Julia Jessen, the company celebrates traditional craftsmanship and innovative, colourful design in a collection of vibrant accessories for the modern home.
Features
• Design Year: 2012 • Designer: Niklas Jessen • Material: Oak • Socket Type: E27 • Suggested Light Bulb: LED max. 10 W, Halogen max. 60 • This piece is made of sustainable wood and carefully handcrafted in Schneid's own workshop. The veneer panels of Zappy gently open or close with change of room temperature, offering different subtleties of indirect light. • Handmade in Germany
Special Care
To best preserve my appearance and longevity, please consider my natural wood composition when choosing a space to hang me in - pleas keep me away from direct sunlight and humid rooms.