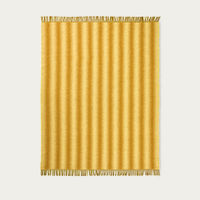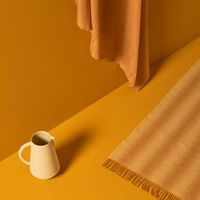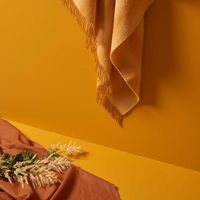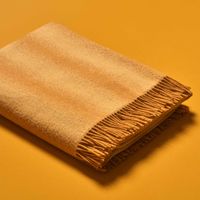 Yellow and Mustard and Blush Tide Blanket
Order now to receive by 1 Mar - 15 Mar
Sizing
• Dimensions: 175 cm x 130 cm
Shipping & returns 
Description
The Tide blanket is characterized by gentle and smooth transitions of dark and light color tones. Inspired by the rise and fall of the sea levels caused by the moon and the sun, the blanket reflects atmospheric nature and incyclical structures. The rhythmical sections of the primary color softened by broad stripes of subtle and deeper shades has a soothing effect, dissolving any haste and surrounding us in calm and balance.
Story
Named after the German wording for "being bold," Lübeck-based creative powerhouse Schneid is exactly that - bold, brilliant and refreshingly sophisticated. Born from the combined passion of two creatives, Niklas Jensen and Julia Jessen, the company celebrates traditional craftsmanship and innovative, colourful design in a collection of vibrant accessories for the modern home.
Features
• Design Year: 2018 • Designer: Julia Jessen • Material: 100% Wool • This blanket is made in low batch production and after the weaving process the wool is brushed, making Tide extra soft and warm.
Special Care
Please note that stoneware can be washed in the dishwasher and handle heat up to 200 °C.