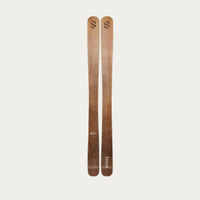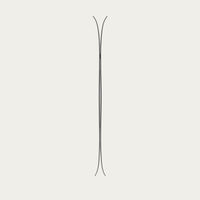 Živan Simini Skis
Order now to receive by 20 Aug - 26 Aug
Sizing
Length: 175 / 185 cm
Shipping & returns 
Description
Ah, Simini's infamous multitasker. Fit to conquer any terrain you set your mind to, Zivan is the ultimate companion on every adventure. Conceived for the playfulness of the forest and the glide of fresh powder, this legend is just as comfortable on any slope - and its versatile design makes it both beginner and expert-friendly. This model is available in 175cm and 185cm long, and its design is a pure, minimalistic tribute to the beauty of natural wood.
Story
Born from a desire to create a more immersive experience within nature and a fascination for natural materials, Simini Skis is a breath of fresh air. Adamant that the beauty of raw, natural resources is more than enough when it comes to product design, Simini offers a line of carefully handcrafted skis - made in Slovakia - showcasing the versatility and wonders of untouched wood.
Features
• 175 cm / 138 – 105 – 132 mm / R 22 m / ∼1800 g / medium stiff • 185 cm / 140 – 105 – 130 mm / R 22 m / ∼1880 g / medium stiff
Special Care
When unnused, please store your skis in a cool, dry space. After use, wipe them down to avoid moisture accumulation.