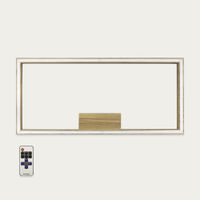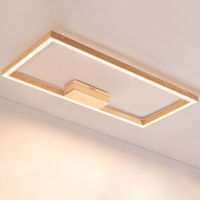 Oiled Oak Frame Ceiling Lamp I
Size guide 
Shipping & returns 
Description
SPOT Light's energy efficient lighting is made onsite in Poland, where they can carefully control the high quality of each collection. They use energy efficient LED bulbs to keep things sustainable, as well as FSC-certified Polish wood. The Frame Ceiling Lamp I is a frame style ceiling light in oak, with remote control dimmer. It's designed to look architectural, with its frame-like structure, and has a cool modern look that's great in industrial and contemporary spaces. Doubles as a side table.
Story
SPOT Light is an innovative lighting brand founded in Poland in 1996, currently based in the city of Bierawa and renowned throughout Eastern Europe. They take pride in producing each light fixture onsite, from FSC-certified wood like oak and beech – all processed in their own carpentry workshop. And their most innovative feature is their 24V LED bulbs – they last much longer than traditional bulbs, making their lighting sustainable. A bright idea.
Features
• Made in Poland • Oakwood and acrylic • Dimensions: W38 x H5 x L83 cm • Weight: 1.9kg • AC Voltage: 230V • Source of Light: 1x 24v LED module • Luminaire: 48W • LED integrated: yes • Protection Class: 2 • Remote: yes • Remote control function: darkening • Luminaire warranty: 24 m
Special Care
When dirty or dusty, please clean your lamp using a clean, damp cloth before leaving it to dry. If any substantial moisture remains after cleaning it, please wipe the surface dry to avoid any staining.