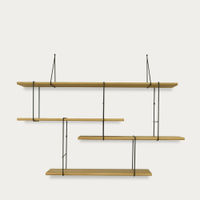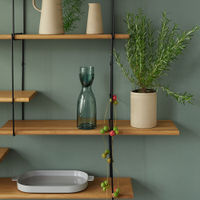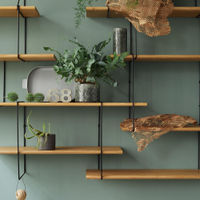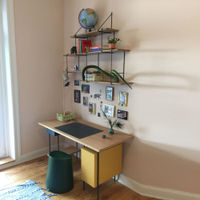 Oak / Black LINK Set 1 Shelf
This product cannot be shipped to your location
Sizing
• Dimensions: 130cm x 95cm x 15cm
Shipping & returns 
Description
Tastefully combining sleek, German design and the beauty of authentic Bosnian woodwork, Studio Hausen offers beautiful interior decoration for the modern home.
Story
Born and based in the heart of Berlin, creative powerhouse Studio Hausen was founded in 2014 out of the desire to provide timeless, sustainable products for the modern home. Tastefully combining minimalist, German design and a love for the natural beauty of wood, Studio Hausen makes a refined addition to any living space.
Features
•Shelf dimensions: 120 x 25 x 105cm •Pack size: 120 x 26 x 15cm •Weight: 14.5kg • 1 x long shelf • 3 x short shelves • 2 x wall bracket • 2 x large bracket • 3 x small bracket • Mounting hardware • Assembly instructions •The Long Shelf: 119 cm x 23.5 cm •The Short Shelf: 79 cm x 23.5 cm
Special Care
When dirty or dusty, please wipe your shelf installation clean by using a damp cloth before leaving it to dry. If any substantial moisture remains after cleaning it, please wipe the surface dry to avoid any staining.