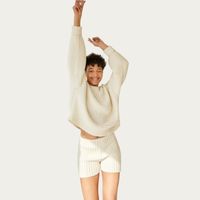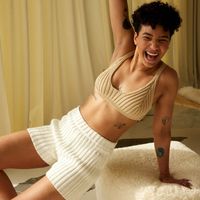 Off-White Pilnatis Shorts
Order now to receive by 10 Dec - 17 Dec
Sizing
The model is wearing a size S/M and is 175cm tall S/M - 34-38 EU / 6-10 UK / M/L - 40-42 EU / 12-14 UK
Shipping & returns 
Description
The Pilnatis Shorts are a pair of handmade cotton shorts. They feature a ribbed pattern and sit mid- to high-waisted. Each pair is ethically handmade in Lithuania.
Story
Founded by the three best friends Sandra, Danute and Akvile, The Knotty Ones are a sustainable knitwear label with a big vision: to create the perfect, eco-conscious knitwear pieces that focus on quality design. Based between New York and Lithuania, the brand offers a range of contemporary knitwear with a minimal aesthetic, all consciously crafted with the environment and the women making their pieces in mind.
Features
• Handmade in Lithuania • 100% Egyptian cotton • Oeko-Tex certified
Special Care
For best results and to protect my knitted structure, please have me professionally dry cleaned. To keep my original shape, please store me folded on a shelf.