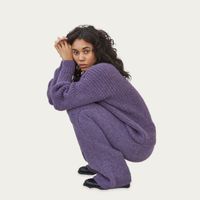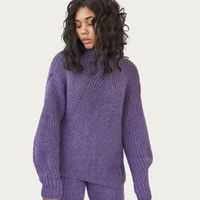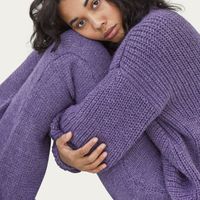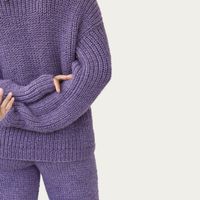 Violet Slabada Knitwear Set
Order now to receive by 14 Dec - 21 Dec
Sizing
The model is wearing a size S/M and is 177cm tall Jumper - width: S/M - 50cm / M/L - 54cm / length: S/M - 60cm / M/L - 64cm Pants - waist: S/M - 29cm / M/L- 36cm / hips: S/M - 36cm / M/L - 39cm / length: S/M - 111cm / M/L - 115cm
Shipping & returns 
Description
The Slabada Knitwear Set is crafted from a soft and warming merino-alpaca wool blend. Each co-ord is crafted by hand in Lithuania by The Knotty Ones' female artisan-team and it takes them about six to eight days to knit one set. The jumper has a round neckline and features a subtle cable knit pattern while the trousers have a slightly flared leg and sit high on the waist. Each purchase supports the Vilnius Women's House Crisis Center, a non-profit providing support to women experiencing violence in Lithuania.
Story
Founded by the three best friends Sandra, Danute and Akvile, The Knotty Ones are a sustainable knitwear label with a big vision: to create the perfect, eco-conscious knitwear pieces that focus on quality design. Based between New York and Lithuania, the brand offers a range of contemporary knitwear with a minimal aesthetic, all consciously crafted with the environment and the women making their pieces in mind.
Features
• Handmade in Lithuania • 65% wool and 35% alpaca wool
Special Care
For best results and to protect my knitted structure, please have me professionally dry cleaned. To keep my original shape, please store me folded on a shelf.