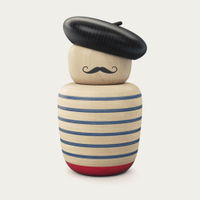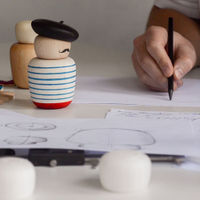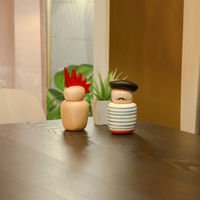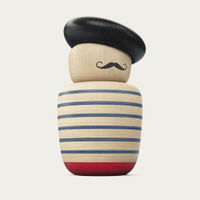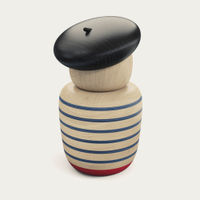 L'Artist
Order now to receive by 25 Oct - 29 Oct
Sizing
Dimensions: 6.5 × 6.5 × 11.7 cm Weight: 195g
Shipping & returns 
Description
The Motleys are a series of decorative wooden figures that represent different historical and cultural icons from around the world. Crafted from solid wood, brass and leather, each character is designed with the intention to last for generations. L'Artist is a decorative miniature figure sustainably crafted from solid maple and ash wood. Inspired by the bohemian, midly eccentric creative, this wooden figurine is held together by magnets, allowing you to mix and match your Motley characters to create your own. Perfect as a gift or to give your living space a playful edge.
Story
Fuelled by the idea to celebrate cultural diversity, the two friends and designers Diego and David founded The Motleys, a series of fun, decorative wooden figures. Handcrafted from solid wood and held together by a magnet, each figurine represents a miniature version of an iconic historic character. A simple and and contemporary stylised shape makes each character instantly recognisable, playfully showcasing different cultures and lifestyles.
Features
• Materials: Ash, Maple, Magnets
Special Care
•Gently cleaning: o Gently Wipe Down with A Sponge or Washcloth and A Bit of Warm Water, Then Allow the Motley to Air Dry. o We Do Not Recommend Wiping with Microfiber Cloths. o Do Not Use Bleach or Harsh Chemicals as It Can Dry-Out the Wood. • No soaking: o You never want to soak wooden objects, as wood is very porous, and the shape of the Motley may change and warp with too much moisture. o If the wood swells, it can cause the wood to crack or damage any painting or finish on the surface of the Motley. o Using a damp washcloth to clean will keep the wood from getting too soaked. • Storing you Motley: o Please be aware that it is important not to place your Motley in direct sunlight i.e. by a window, as the direct sunlight can cause the wood to dry out and crack. o In addition, the sun's UV rays will bleach the colour from the wood over time. o As each Motley contains magnets, we do not recommend storing them in close proximity to electronic devices.