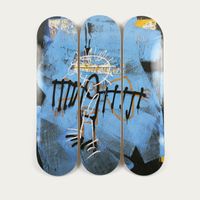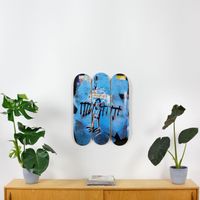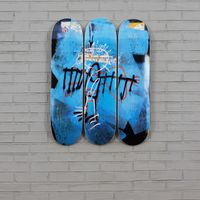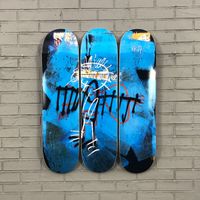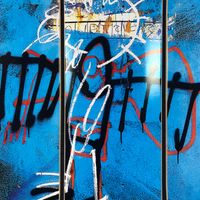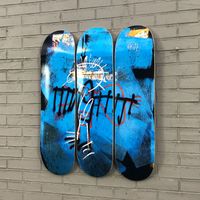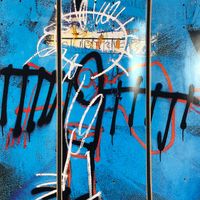 Crafted by The Skateroom
Untitled Angel 1982 Jean-Michel Basquiat
This edition of Untitled (Angel), 1982 printed on a skateboard, showcases Jean-Michel Basquiat's iconic artwork. The Skateroom makes art that looks and does good – each piece is crafted from Canadian maple wood and each one sold helps fund community skate projects for children at risk.
Order now to receive by 10 Jun - 16 Jun
Shipping & returns
The Skateroom's skateboard artworks are so good, you'll want to hang ten. And good doesn't just refer to their looks. Each one helps to fund community skate projects for at-risk youths – art with real purpose. Each artwork printed on a Canadian maple board, and comes with a wall mount.
Bringing a whole new meaning to brand responsibility, The Skateroom turns its customers into social contributors: they donate 25% of the profit from each artwork to skate projects empowering at-risk youths. Their impact's massive. And each skateboard art piece will make a big impact on your space too – they're all brightly coloured, in modern, graphic styles, and a must for anyone looking for truly modern art.
• Made in Belgium • 7 ply Grade A Canadian Maple wood • Dimensions: L80 x W20 cm per deck • Triptych set of 3 skateboards • Licensed by Artestar, New York. © Estate of Jean-Michel Basquiat • Top-print includes printed signature of the artist, Jean-Michel Basquiat • Includes: 1x Easyfix wall mount per deck
Please do not hang me on a wall facing the sun directly, as my colours may fade, as can happen with fine art.