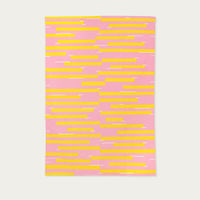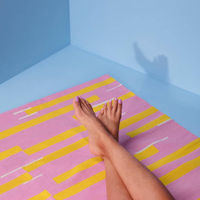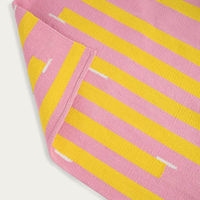 Crafted by Tiipoi
Pink and Yellow Jamakhan Stripe Handwoven Rug
Combining time-honed Indian craftsmanship with street-smart London style, Tiipoi's a home accessories brand with a distinct heritage that gives it its difference. The Jamakhan Stripe Handwoven Rug is a hand-dyed cotton rug.
Order now to receive by 10 Jun - 16 Jun
Shipping & returns
The Jamakhan Stripe Handwoven Rug is inspired by Bhavani 'Jamakkalams' – graphic floor coverings from Bhavani, a town in the Erode district of Tamil Nadu. These oversized textiles are often used in homes, wedding halls and public events and are widely renowned for their durability. This piece was woven from high-grade Erode cotton yarn and hand-dyed the old-fashioned way in the neighbouring town of Karur. The result is a long-lasting and soft rug that's fade-proof too.
Indian-fusion isn't a term reserved for food. Bangalore and London-based Tiipoi combines the two cultures effortlessly, producing creative pieces for home that are designed with a purpose – be it eating, relaxing or styling.
• Materials Pure Cotton, • Process: Hand Weaving, Hand- Dyeing, • Dimensions: L 180cm x W 120cm