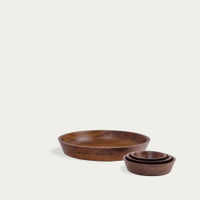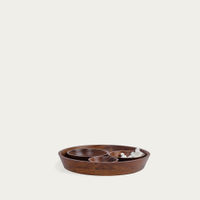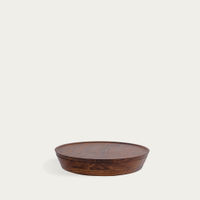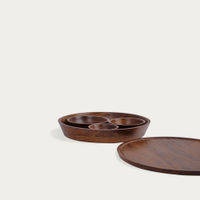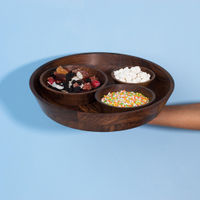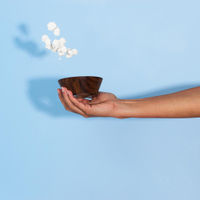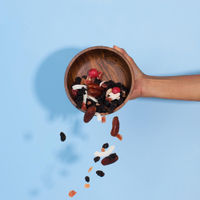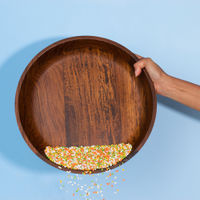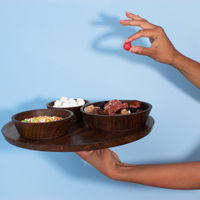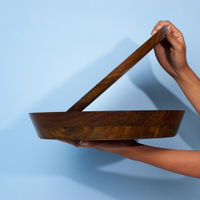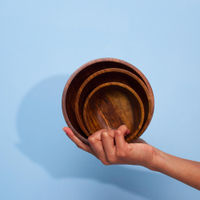 Seva Bowl and Platter Set
Sizing
• Dimensions: Small / (Dia) 9.8cm x (H) 3.7cm Medium / (Dia) 12.7cm x (H) 3.7cm Large (Dia) 15.1cm x (H) 3.7cm Extra Large / (Dia) 31.7cm x (H) 5cm Platter / (Dia) 33cm x (H) 1.8cm
Shipping & returns 
Description
Tiipoi's Seva, which in Sanskrit means 'to serve', is a set of wooden bowls featuring a circular lid that doubles up as a tray or platter. Made out of Sheesham wood, an indigenous and sustainably-sourced Indian hardwood, this piece is hand-turned on a lathe.
Story
Founded in 2013 by Spandana Gopal, creative powerhouse Tiipoi aspires to show the world that there is truly more to Indian design than meets the eye. Based in London with its roots firmly set in India, the brand perfects a collection of decoration and functional accessories for the modern home. Combining authentic generational craft with a refreshingly unassuming aesthetic, Tiipoi infuses the modern living space with the warmth and vibrance of India.
Features
• Composition: Sheesham wood, natural wax finish • Process: Wood turning
Special Care
I am machine-washable, and benefit from being stored in a cool, dry place.