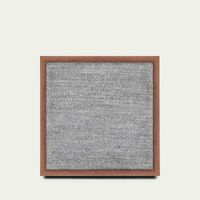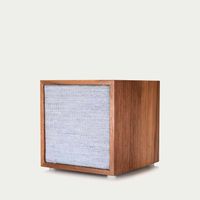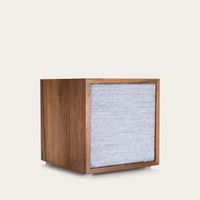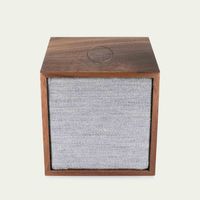 Walnut / Grey ART Line CUBE Tivoli Audio
Shipping & returns 
Description
The CUBE wireless speaker offers a unique mix of style and sound, enhancing your home décor with cable-free high quality audio. Enjoy a variety of wireless listening experiences by streaming your favorite music services from any iOS or Android device. As simple as a single speaker with a possibility for more, the CUBE can be configured to offer mono, stereo, and multi-room audio playback. Download the Tivoli Audio app to get the advanced experience of listening to your music via your wireless network.
Story
Born in Massachussetts, Tivoli Audio is the creative lovechild of audio engineers Tom DeVesto and Henry Kloss. Inspired by a prominent gap in the market for qualitative, well-designed and affordable AM / FM radios, the duo collaborated to create the ultimate modern version thereof: Tivoli Audio radios. Carefully handcrafted with premium materials and state-of-the-art attention to detail,
Features
• Wireless Wi-Fi network and Bluetooth Connectivity. • Simple Control via the free Tivoli Audio Wireless App and source, volume, configuration controls on the back of the speaker • Connect a multitude of ART speakers and set-up multiple sound groups on a single network • Gabriel fabric • Tivoli Audio wood veneers
Special Care
When dirty or dusty, please clean your audio gear using a clean, damp cloth before leaving it to dry. If any substantial moisture remains after cleaning it, pease wipe the gear dry to avoid any staining.