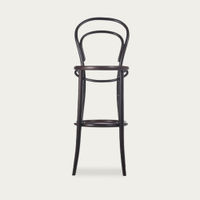 Coffee Barstool 14
Order now to receive by 8 Oct - 15 Oct
Shipping & returns 
Description
TON produces meticulously crafted wooden furniture using a traditional wood bending process – in the same factory that's specialised in the technique since 1861. The look is modern yet timeless, and because bending wood gives it strength, each piece lasts for generations. The Barstool 14 is based on the Chair 14, a TON classic since 1859 – it's so popular in Vienna that it's been nicknamed the 'café chair'. It's manually crafted from bent beech rods, and has a minimal construction with a subtle vintage look. The barstool's seat is comfy, and the backrest keeps you stable when you perch. Perfect for kitchen islands or bars.
Story
TON is a master of its specialist craft: producing bent wood furniture using traditional wood-bending techniques. It's what the name TON stands for, and is a skill that's been honed for generations, in the same factory that's been the home of bent wood furniture since 1861. It's in an area surrounded by beech trees – one of the key natural materials TON uses. And its benefits are ample: not only is it a sustainable and natural approach using renewable materials, bending wood gives it strength and durability. Their bent wood chairs are award-winning, because their wooden furniture skilfully combines legacy principles with innovative techniques – like the wood splitting process they've pioneered. The result? Wooden furniture that looks timeless and lasts a lifetime.
Features
• Height: High Barstool, • Wood Type: Beech, • Leg Model: 55, • Total Width: 40.5/40.5cm, • Total Depth: 50/50cm, • Total Height (High Barstool): 110cm, • Seat Height (High Barstool): 76cm, • Seat Width: Ø 40,5 / Ø 40,5, • Seat Depth: Ø 40,5 / Ø 40,5, • Product Weight: 4.2 / 3.9kg, • Volume: 0.309/0.262, • Dimensions: 52 X 44 X 117/52 X 44 X 99, • Packing: 1pcs
Special Care
When dirty or dusty, please tend to clear your furniture using a clean, damp cloth before leaving it to dry. If any substantial moisture remains after cleaning it, please wipe the surface dry to avoid any staining.