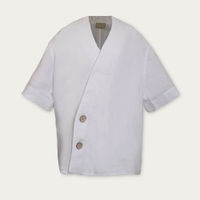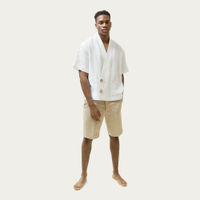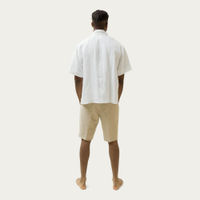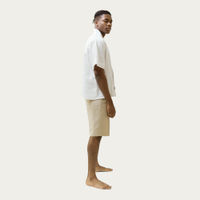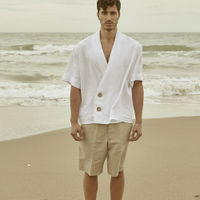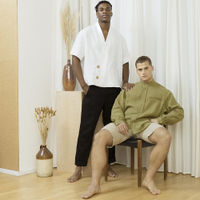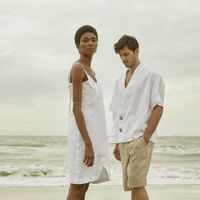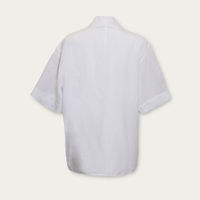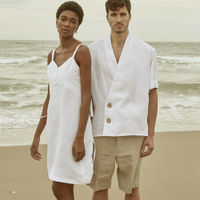 White The Wrap Shirt
Order now to receive by 10 Aug - 17 Aug
Shipping & returns 
Description
Sustainability isn't just a buzzword for Trace Collective – it's a way of life. Their planet-first production process has a positive carbon footprint, and their European makers are equally as socially and environmentally conscious. Their durable, eco friendly regenerative fabrics are designed to last a lifetime – buy less, buy better. The Wrap Shirt is a casual, lightweight wrap shirt in 100% organic linen, made in Barcelona. It's fully biodegradable, down to the coconut buttons at the front, and has a breezy look that's perfect for warm summer barbeques or drinks.
Story
Trace Collective's aptly named – it's developed by a community of people who want to leave the planet better than they found it, and their production process is completely transparent and traceable, including their pricing model. Their sustainable fashion collections are fuelled by a need to create a positive social and environmental impact, so while they're durable and functional, they're always made planet-first – choosing fabrics and production processes that improve the lives of everyone on the planet. They stick to regenerative fabrics to help them meet this goal, and always aim to create a positive carbon footprint – because it's not enough to 'do less damage', they want to reverse the impact of others too. Each piece is designed to last a lifetime – another planet-friendly approach – but because they know that 60% of a garment's carbon footprint occurs after you take it home, they offer a take-back scheme as well as lifetime repairs.
Features
• Designed for Circularity, Fully Biodegradable, • Made in Barcelona, Spain, • Thread Material: 100% GOTS Certified Organic Cotton, • Fabric Material: 100% European Linen certified with the MASTERS OF LINEN® mark., • Buttons Material: 100% Coconut Shell
Special Care
To best preserve my quality and longevity, please wash me at low temperature (30 degrees Celsius) using a gentle detergent, and hang me up to dry.