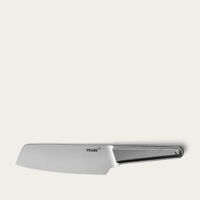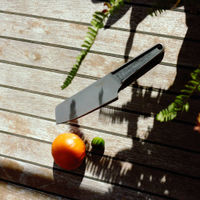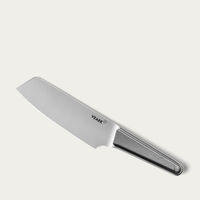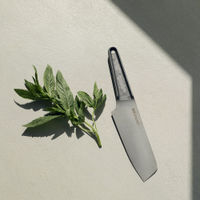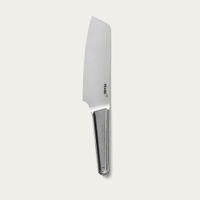 SK15 - Single Piece Stainless Steel Santoku Knife
Order now to receive by 29 Sep - 4 Oct
Size guide 
Shipping & returns 
Description
From their drop-formed knives to their diamond steel sharpening rod, Veark crafts pieces for makers – simple, functional, sustainable kitchen tools designed to be used, and to last. The SK15 - Single Piece Stainless Steel Santoku Knife is an angular knife drop-forged from a single piece of stainless steel. Its construction makes it a hard, solid kitchen knife – able to achieve a sharper edge for easier chopping.
Story
Veark crafts sustainable, honest, high quality kitchen tools for everyday use. Pieces to help makers get making, not to be admired on a shelf. They believe in creating and consuming less, but better – pieces that last a lifetime and reduce waste. And thanks to their artisan craftsmanship, they also help support a worldwide community of makers who all believe in this same mission.
Features
• The SK15 Features A 15cm (5.9") Blade, • Overall Length Is 27cm (10.6"), • It Is Drop Forged from Stainless Steel (X50crmov15), • Weighs 190g (6.7oz.), • The Typical Quality Knife Has A Hardness Of 55-56 Rockwell, We Even Exceed That At 58 Rockwell
Special Care
• A Sharp Knife Is A Safe Knife! o Hone Your Knife Regularly with A Steel, Diamond or Ceramic Honing Rod to Stay Sharp. • Use A Cutting Board. o Cutting on Hard Materials Like Glass, Stone, Ceramic or Steel Will Make Your Knife Dull. Please Use Cutting Boards Made from Wood or Plastic. • Cut Straight, do not Scrape. o Avoid Scraping the Blade Sideways Over Any Surface. To Move Food from Your Cutting Board to A Pan, Turn Your Knife Upside-Down and Push with The Rear Spine Of The Blade Instead • Keep It Clean. o Rinse Your Knife After Use. Do not Let Any Food Dry on The Blade. Use Only Mild Dish Soap and Non-Abrasive Cleaning Utensils • Wipe It Dry. o Thoroughly Dry Your Knife with A Towel After Cleaning. • Store Safely. o Find A Dedicated Space for Your Knife. It Should Not Be Knocking Around Against Other Objects in A Kitchen Drawer. • Do not Drop It. o Especially onto Hard floors. • Dishwasher. o The Knife Will Basically Be Able to Withstand Dishwasher Use, it is Sharpness However Will Not! Your Knife Will Have A Higher Demand for Maintenance to Keep It Sharp. So, We Cannot Recommend Putting the Knife into The Dishwasher! • Sharpening. o We Do not Recommend Using Any Promiseful Sharpening Machines. If Honing Your Knife Does Not Bring Back the Sharpness, Use Proper Whetstones or Have It Sharpened by A Professional.