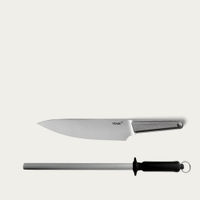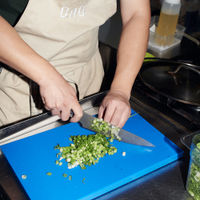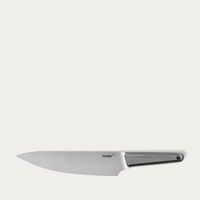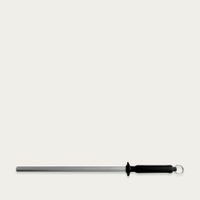 Stay Sharp Package CK01
Order now to receive by 29 Sep - 4 Oct
Size guide 
Shipping & returns 
Description
From their drop-formed knives to their diamond steel sharpening rod, Veark crafts pieces for makers – simple, functional, sustainable kitchen tools designed to be used, and to last. The Stay Sharp Package CK01 is a chef's knife drop-forged from a single piece of stainless steel, plus diamond steel sharpening rod. Its construction makes it a hard, solid kitchen knife – able to achieve a sharper edge for easier chopping – and the rod means you can keep it at its sharpest.
Story
Veark crafts sustainable, honest, high quality kitchen tools for everyday use. Pieces to help makers get making, not to be admired on a shelf. They believe in creating and consuming less, but better – pieces that last a lifetime and reduce waste. And thanks to their artisan craftsmanship, they also help support a worldwide community of makers who all believe in this same mission.
Features
• 1x CK01 Stainless Steel Chef's Knife, o The CK01 Features A 20cm (7,9") Blade, o Overall Length Is 32cm (12,6"), o It Is Drop Forged from Stainless Steel (X50crmov15), o Weighs 200g (7oz.), o The Typical Quality Knife Has A Hardness Of 55-56 Rockwell, We Even Exceed That At 58 Rockwell, • 1x Diamond Steel Sharpening Rod o High Quality Diamond Steel Rod, o Oval Steel Rod, Covered with Microcrystalline Diamonds, o Easy to Maintain the Sharp Edge of Your Knife, o Made in Germany
Special Care
• A Sharp Knife Is A Safe Knife! o Hone Your Knife Regularly with A Steel, Diamond or Ceramic Honing Rod to Stay Sharp. • Use A Cutting Board. o Cutting on Hard Materials Like Glass, Stone, Ceramic or Steel Will Make Your Knife Dull. Please Use Cutting Boards Made from Wood or Plastic. • Cut Straight, do not Scrape. o Avoid Scraping the Blade Sideways Over Any Surface. To Move Food from Your Cutting Board to A Pan, Turn Your Knife Upside-Down and Push with The Rear Spine Of The Blade Instead • Keep It Clean. o Rinse Your Knife After Use. Do not Let Any Food Dry on The Blade. Use Only Mild Dish Soap and Non-Abrasive Cleaning Utensils • Wipe It Dry. o Thoroughly Dry Your Knife with A Towel After Cleaning. • Store Safely. o Find A Dedicated Space for Your Knife. It Should Not Be Knocking Around Against Other Objects in A Kitchen Drawer. • Do not Drop It. o Especially onto Hard floors. • Dishwasher. o The Knife Will Basically Be Able to Withstand Dishwasher Use, it is Sharpness However Will Not! Your Knife Will Have A Higher Demand for Maintenance to Keep It Sharp. So, We Cannot Recommend Putting the Knife into The Dishwasher! • Sharpening. o We Do not Recommend Using Any Promiseful Sharpening Machines. If Honing Your Knife Does Not Bring Back the Sharpness, Use Proper Whetstones or Have It Sharpened by A Professional.