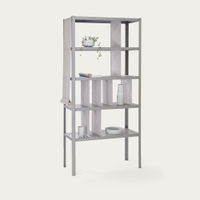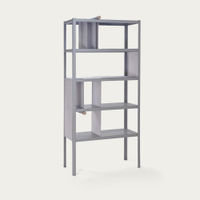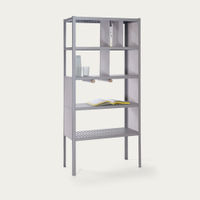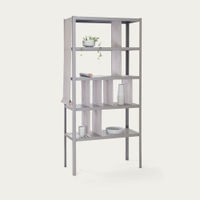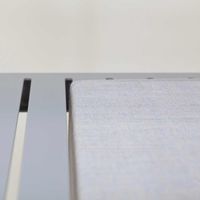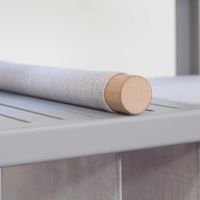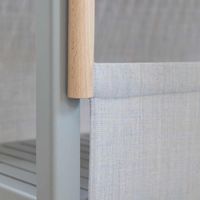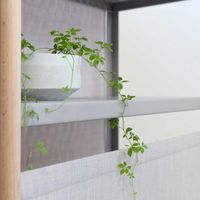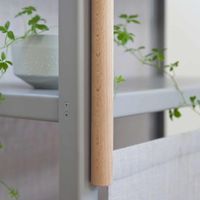 Crafted by Vij5
Divide 5 Platinum Grey Dressed Cabinet
Tastefully combining its founders' creative vision with the talent of countless collaborations, Vij5 is best known for its beautifully crafted furniture, lighting and unique home accessories.
Order now to receive by 1 Jul - 8 Jul
Sizing
• Dimensions: Shelves: 87,4cm x 40cm x 3,5cm Outside dimensions: 88,2cm x 40,8cm Height: 186,4 cm
Shipping & returns
Inspired by the designer Puck Dieben's childhood memory of building huts out of bed linens, the dressed cabinets demonstrates what textiles can do for a simple shelving unit. Owners can dress up their cabinet the way they like by weaving the fabric through or around the metal frame, and the tension in the fabric, created by the wooden parts, ensures the final form and functionality of the design. Open or closed, formal or playful, the Dressed Cabinet invites adults to play with the appearance of their furniture once again.
Founded in 2006 by Arjan Van Raadshoven and Anieke Branderhorst, Vij5 is as much a reflection of its founders' creative visions as it is a home to various collaborations - including yound artists, curators, architects and more. With a focus on pure, minimalistic materials like wood and metal and a particular appreciation for creative, well-balanced design, the brand provides state-of-the-art accessories and accents for the modern home.
• Designed in collaboration with Puck Dieben • 5 levels & 5 meters of Kvadrat fabric • Composition: Powder-coated steel frame, Kvadrat fabric, wooden weights
When dirty or dusty, please clean the cabinet by using a gentle soap and water before leaving it to dry. If any substantial moisture remains after cleaning it, please wipe the surface dry to avoid any staining.