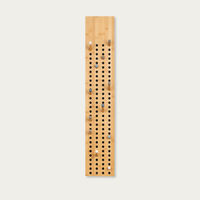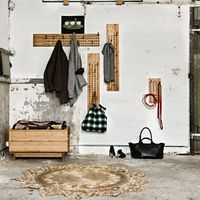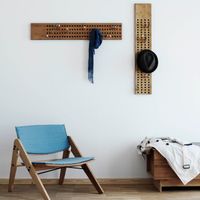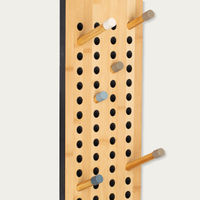 Natural Vertical Large Scoreboard
Shipping & returns 
Description
'If you could make wooden furniture more sustainable, would you?' That's the question We Do Wood posed to themselves when they launched their Denmark-based furniture brand. And it turns out, the answer was Moso Bamboo. So that's what every piece is made from. The Vertical Large Scoreboard is a colourful, play-inspired coat rack. A Moso Bamboo pegboard is plugged with moveable coloured pegs, each sturdy enough to take the weight of your favourite winter coat. Rearrange it as your wardrobe shifts, and pair it with other wooden pieces for a simple, Scandi look.
Story
We Do Wood is dedicated to making the furniture industry more sustainable. So when this Denmark-based brand realised Moso Bamboo outperforms all other wood in terms of positive environmental impact, it was a no-brainer to use it in all of their designs. Their pieces range from peg boards to shoe racks and tables, and all have a sweet Scandi look – thanks to their natural finish and simple silhouettes.
Features
• Material: Moso Bamboo, • Height: 100 Cm, • Width: 18 Cm, • Weight: 1.9 Kg
Special Care
Clean bamboo with a damp cloth and a little soap. Maintenance should be carried out by sanding with sandpaper (grain 180) in the fibre direction. Afterwards, 3 treatments with linseed oil should be applied.