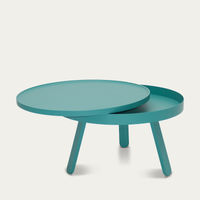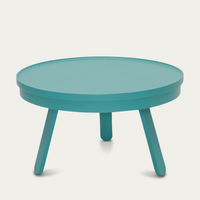 Green Medium Batea Coffee Table
Sizing
• Dimensions: (D) 62cm x (H) 35cm
Shipping & returns 
Description
The medium-sized member of Woodendot's Batea family is not just a wood coffee table; it includes a small storage space where you can keep the small daily essentials out of sight and organized. Tastefully combining tradition and modernity, the Batea adapts to the dynamics of its living space.
Story
Founded in 2013 by Daniel and Maria, Woodendot was inspired by a memorable youth spent growing up in "Tierra de Pinares" in Valladolid, Spain, known as the land of the pines. The area's abundance in wood and its innate appreciation for the beauty of nature encouraged generations upon generations of woodworkers and a passion for design - especially when it portrays the unparalleled beauty of natural materials. Channeling its founders creative vision and their heritage, Woodendot was born, providing beautiful state-of-the-art furniture and accessories for the modern home.
Features
• Table lid fully removable • Matte finish • Storage depth of 4,5 cm
Special Care
When dirty or dusty, please tend to your table using a clean, damp cloth before leaving it to dry. If any substantial moisture remains after cleaning it, please wipe the surface dry to avoid any staining.