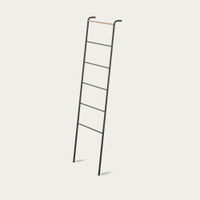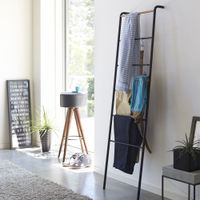 Description
Heard the phrase 'tidy home, tidy mind'? Japanese homeware brand Yamazaki has. Their organisational and storage accessories are designed to make the most of your space, so you can live to your full potential. The Tower Leaning Ladder Hanger is part of the Tower collection – pieces with an elegant minimalism thanks to their simple steel and wood construction. This leaning ladder hanger gives you a place to store your accessories, dry your laundry or keep your throws, and thanks to its leaning design can be easily moved to suit your space.
Story
Spanning four generations and over 100 years, Yamazaki is a Japanese homeware brand that's always been at the forefront of design. It's been passed down between fathers and sons since before World War II – originally as an ironing board manufacturer – and in the process has found its calling: to make your everyday less chaotic. Their organisational and storage solutions are all designed with a purpose – it's an intentional process influenced by their location in an ever-crowded city. Because when space is short, everything in your home should have a function (or two, or three), and make your busy life more zen. That's why their design style's minimal and contemporary, in construction, materials and palette.
Features
• Material: Steel / Wood • Weight: 2,3 kg
Special Care
When dirty or dusty, please tend to your furniture using a clean, damp cloth before leaving it to dry. If any substantial moisture remains after cleaning it, please wipe the surface dry to avoid any staining.